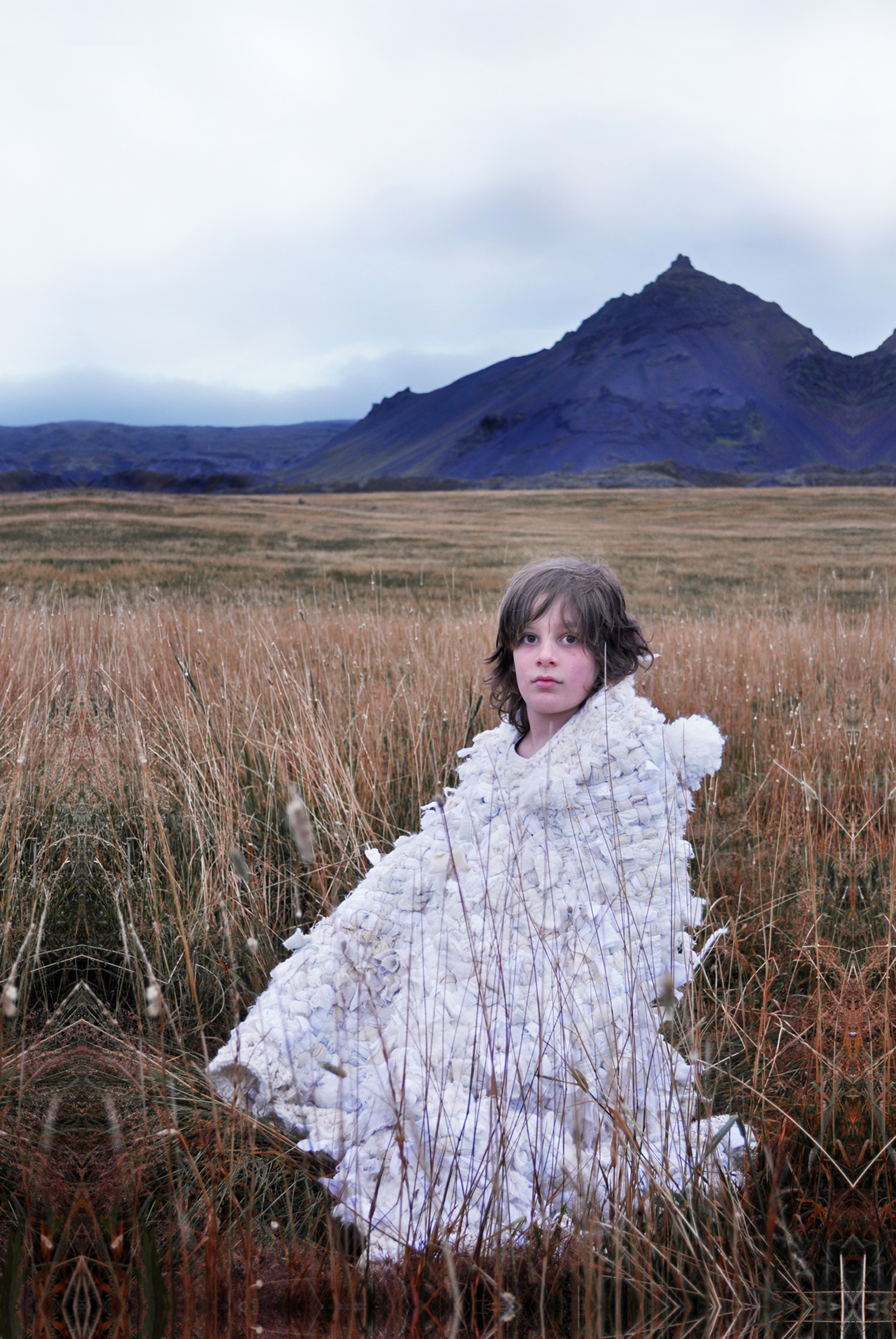 The Ecstatic Moment
"Mandy Greer: The Ecstatic Moment" at The Hudson River Museum, Yonkers , NY, June 7-Sept. 14, 2014
A multi-part immersive installation of fiber-based sculpture and costumes, photography, film and performance blended with the museum's collection of Victoriana, encompasses the entire bottom floor of the museum. It meanders through six different realms of colored walls and wallpaper, as well as sweeping up into the 24-foot high atrium.
Along with work I've made from 2009-2014 – including elements specifically for The Hudson River Museum installation – I was given access to attic and basement storerooms full of personal objects and collections from Hudson River Valley inhabitants from the past. As someone who finds inspiration from dusty ruins and hidden secrets in fairy tales, this was like getting to briefly walk onto the set of Cocteau's La Belle et la Bête, and take what I wanted.
Beginning with my on-going community-based project Mater Matrix Mother and Medium — begun in 2009 — surrounding the two-story staircase, installed for the Hudson River Museum as a huge weighty Waterfall that you walk through and behind to enter the world below, referencing the massive sweeping beauty of the Hudson River just outside.
Once you descend, you are confronted with your own image in a majestic floor-to-ceiling Eastlake Style mirror, engulfed by rough and beaded crocheted fiber tendrils of brown branching arms from my Root Room installation.
Next, an intricate Victorian ebonized case, filled with minerals I selected from the museum's oddities when it used to be a natural history museum, along with stones I collected in Iceland and my travels across the country. Surrounding this are pieces from my Zuster, Sweoster Systir photography series, a headdress made from yarn spun from my hair and my son's , and a glittery beaded emerald chandelier from my work "Dare alla Luce".
After this verdant realm comes The Golden Sphere, a small window into dark shadows and of a glittering gold netherworld. Illuminated by the intricately beaded 'Honey Moon', photographs of my husband as earthen man, pulling gold from the dirt, rich photographs on cotton rag hang suspended in 19th century gilt frames separated from their original paintings. Here too is a repeated theme of selecting mirrors from the HRM collection, this one a mahogany stared inlaid Moroccan style, creating infinite view points into hidden realms, as it reflects back layers of Victorian bird and wax flowers under glass among my own paper flowers.
The center piece of the atrium gallery is my installation "Every Moment Lost is Lost Forever", a towering confection that portrays a lacy inverted volcano in peach-flesh tones, a ring of leather carrion birds spewing an ash made up of collections of silvery grey crocheted ribbons, silver-leafed bones, stone and shells among other things. Influence by my time spent working in the volcanic landscape if Iceland, but also layered with other ideas of nature, destruction and regeneration.
Notions of Travel moves through the next several realms, my own and the Victorian sense of exploration and the Cabinet of Curiosities of that time. The Flesh/Lava realm, Ice/Water realm and Vermillion Room all contain work I've made inspired by residencies in Iceland, France and Italy.
My strategy for working these vintage collections into the installation was mostly intuitive, looking for things that I simply desired, as any obsessive collector might. It often led me to pieces that were damaged or odd in their beauty. Pieces that might draw out connections and memories in my work, always remembering that these were artifacts that decorated and defined space in intimate personal lives now gone. My work too is laced with my own life and experiences, my old clothes, my hair, my husband's, my son's; old baby clothes shredded and dyed, trinkets and baubles from my grandmother, mixed with junk drawer keys and stones and seashells from travels.
Then to the farthest realm in the galleries is the Celestial Realm, with charcoal walls and dramatic lighting on the glittering stars of the Seven Sisters from Dare alla Luce, reflected in another immense Eastlake-style mirror inlaid with mahogany and ebony. The center of this realm is filled with a massive intricate black Pelican Goddess enmeshed in 16 feet of black beaded crocheted tangles and paper chrysanthemums ,with yards of white beaded 'milk' flowing onto a 12 foot spiral referencing both an over-sized braided rag rug and a galaxy.
For The Hudson River Museum installation, the tail of the Pelican engulfs a white marble sculpture of a woman, Euridice from 1870, breasts bared, twisting in a spiral with her hand pulled towards the pelican with black satin ribbons. This is my favorite pairing of my work with a HRM collection piece, the interrelated qualities of material, mythology and imagery with works around the room is electric. Around her are other marble columns from the collection covered in carved flowers and holding my collection of lava stones from Iceland, sewn fabric lilies, silver leafed bones. The emotive quality of the statue is intense longing or mourning, I imagine an intensity pulled from the mythology of her story of separation from Orpheus, connecting my work to the craft of another artist, Riccardo Grifoni's interpretation of ancient stories.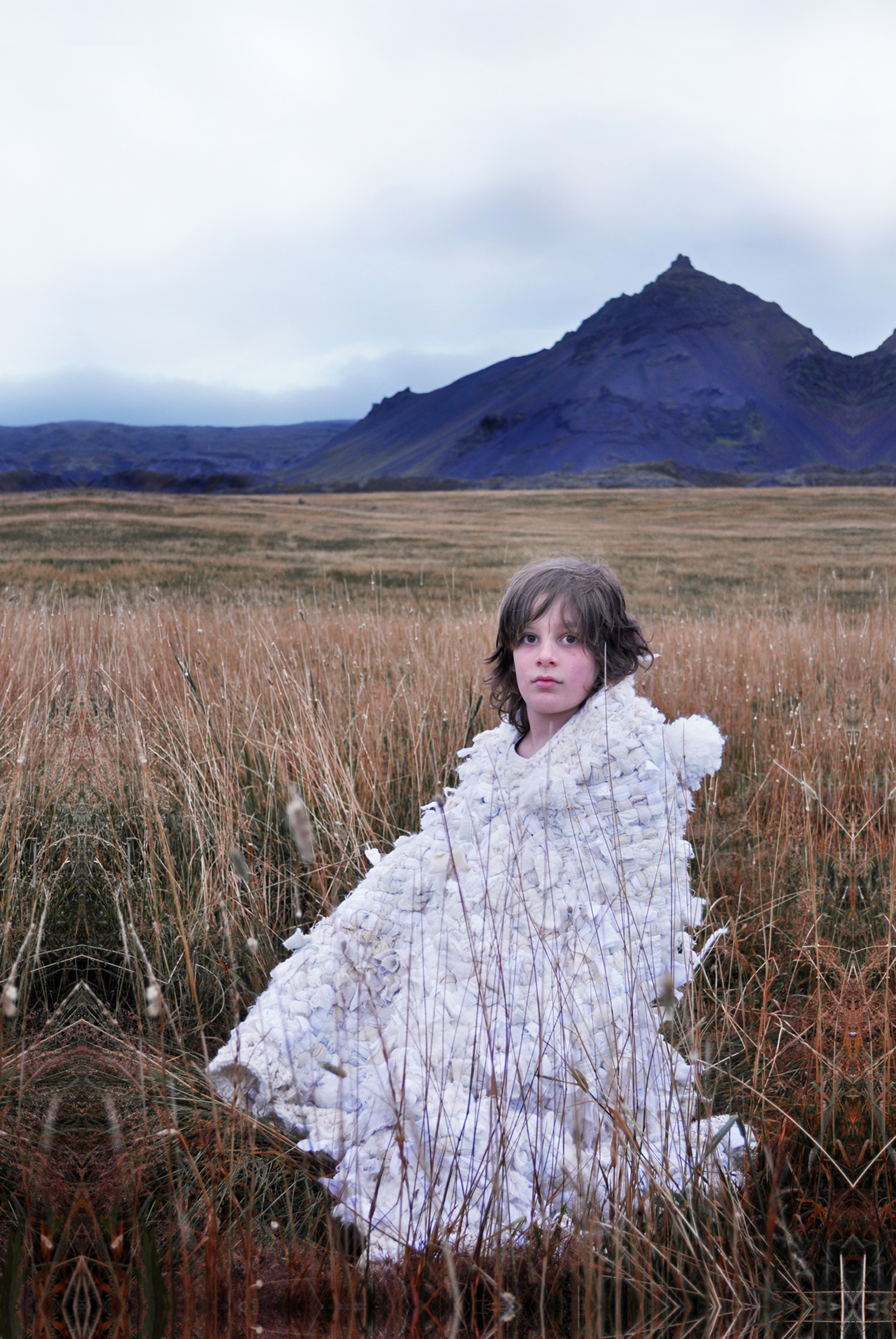 The final realm, The Vermillion Room is dominated by a slowly rotating forged ring of large turkey vultures, shredded wings spread over a mass of crocheted, beaded and blown glass 'blood', culminating in the strong geometry of a quilted compass rose spreading across the floor in 4 directions. This structure, dealing with time, direction, blood, destruction, regeneration continues my fascination with the carrion bird, this time a more naturalistic portrayal than the mythical carrion birds in "Every Moment Lost is Lost Forever".
I've encountered turkey vultures on several hikes in my home state of Washington, but none more dramatic than once on an elk carcass along the Naches River. Along with three vultures were two golden eagles and a number of large ravens and a few magpies. Having just lost a friend, I sat and watched the events across the river in solemn quite that slowly turned to appreciation at the work that the birds do in the cycle of life. Often harbingers of death in mythology, the birds actually do no harm, nor do they kill.
They turn death into flight, a notion that filled me with relief and awe as this congress of huge birds flew in entwining circles in front of me, as the carcass was above me on a rock ledge. Further down the river, I collected the sun-stripped bones of a dog and a deer, which a few became a part of the silver expanse of the installation.
Surrounding the vulture compass rose are photographs and video created on my recent residency in Normandy, France, and depict a character I took on called "The Poppy Goddess." Traveling with my family, the bucolic landscape all around me was in deep contrast to intensity of sadness I felt throughout my son's studies of World War II. As a youngster, he became enamored with the machinery and the archetypal heroics of soldiers.
Wearing the intricate costume myself, it began to feel like a sort of armor, protecting or numbing myself to my ambivalence with my son's attraction to the hero stories of war. Because of the multilayered mythology of the poppy flower – both of remembrance and the opium-induced forgetfulness of Demeter, I began to think of the Goddess as just one of an entire order of sisters, who assist (particularly mothers) with mourning the loss of children to war, who might lead one to a path of forgetting, and into dream as the only way to ease pain, and survive.
A companion to my Poppy Goddess costume in the gallery stands a 1900 bronze of Orpheus from the museum's collection, and traced back to the iconic ruins of Untermyer gardens in Yonkers. Both figures stand as if in conversation with a photograph echoing a lyre form, created from brambles, mistletoe and crocheting arranged on a Norman hedgerow ruin. Naked in opposition to the cloaked goddess, both figures carry their own mythology of traveling to the underworld, immeasurable loss and the desire to outwit death — again a thrilling pairing of my work with a turn of the century artwork, both exploring the recurring presence of mythos in the drama of our everyday life.
Hypnos
'Hypnos' single-channel video, features an exploration of the Poppy Goddess, shot in Normandy France and at Mont Saint-Michel
The ocean, the river, the stream, the glacier, the iceberg lace themselves through the entire experience of the overall installation. Actual rivers and shores populate my films that are in every realm, adding their ambient sounds like a circulatory system throughout the installation. The Ice/Water realm, flanked by MMMM Waterfall, shows images and costumes from a month-long January residency in Iceland, turning glacial ice into intricate patterns mixed with a woven and crocheted cape I made to wear and respond to the incredible Jökulsárlón iceberg lagoon.